ABOUT MUMMY'S AID
Julia has been a paediatric nurse since 1998. She undertook her training at Great Ormond Street Hospital, London, and then went on to work in various paediatric settings in leading teaching hospitals across London and England. More recently in Australia, Julia has worked at The Princess Margaret Children's Hospital in Perth and is currently a Paediatric Nurse Educator in Geelong, Victoria. Julia completed her Certifiacte IV in Teaching and Assessing in 2014. She lives in Jan Juc with her husband and two children.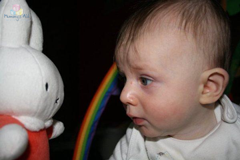 Julia's son, Ben (aged 2) with his friend Miffy
Julia has gained invaluable experience in teaching paediatric CPR and choking to both medical and nursing staff as well as to parents of sick children. By teaching her skills to parents Julia empowers them with the confidence to know what to do in the event of an emergency.